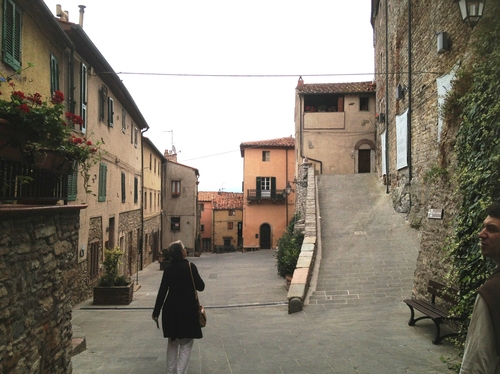 Sassetta has been clinging to the hillside high above Castagneto for a thousand years and still has not fallen off. Although if you walk down the medieval streets and under the arches it is obvious why, as Sassetta has been built on and out of the rock face and outcrops of rock bulge out of the walls beneath the pots of geraniums.
When I first came to Bolgheri it was Lola who looked after the house and me. She came up the lane to the house in her sunhat with a stick to ward off snakes and other perils dressed in black and far more like I imagine Nonna Lucia than the jolly statue we have in Bolgheri's main square. Her family had been millers down at the Mulino below the village in the days when there was fast flowing water in the gorge turning the mill wheel and her mother would take the flour up to Sassetta on the back of a donkey. Although already close to eighty, Lola would still walk up the hillside through the macchia every now and then to visit her little house there. She was over ninety when she died this year and there is a photograph of her in the bar in Bolgheri.
Although a tiny village, Sassetta is very active with a tourist office offering all sorts of activities: trekking on foot, horseback or bicycle as well as walks through the 700 acres of Poggio Neri Forest Park with its wild countryside of chestnut groves and Mediterranean scrub. In the month of October alone there is a course for aspiring charcoal burners, this being a historic activity in this part of Tuscany, as well as a Sagra della Zuppa on the 6th and a Sagra della Castagna on the 13th while on the 20th there will be a Sagra della Polenta and a Donkey Palio. There is something going on every week all summer long and in June another course is held so that aspiring sculptors this time from the ages of 16 to 40 can learn how to sculpt the rose coloured marble of Sassetta. In July there is a Sculpture symposium and the sculptures created by artists from all over the world can be seen as permanent exhibits at every corner and tiny square in the village.
Sassetta is also famous for the Segherie Maremmane, artisan pipe makers whose wares are sold as far away as South Africa and North America.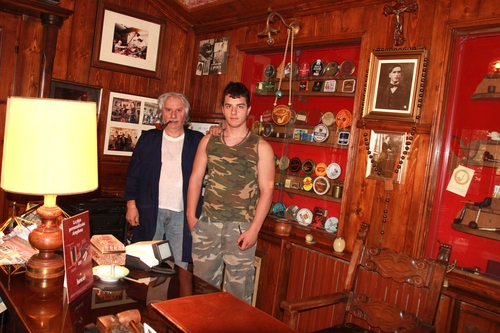 The Cresci family has been making pipes since 1883. Sanis Cresci's great grandfather started the business as briar grows freely all over the hillsides above the Mediterranean. Basically if the heather in Scotland were to grow into bushes five metres tall they too would find briar which is a kind of bulb between the root and the trunk. In a very old tree this might be the size of a football. It was first used to make rosary beads, then umbrella handles until they discovered that it was ideal because of its hardness and resistance to heat to turn into pipes. Making a pipe is a complex art passed down from father to son and Sanis' son Samuele will take the family business into the fifth generation. The briar first has to be constantly moistened, freed from impurities, then sawn into chunks by expert hands respecting the intricate patterns in the wood using a circular saw before being boiled for twenty four hours to eliminate the tannin and dried in sacks for two years. Only then can a pipe be shaped out of the briar, each one unique, no two the same. If you turn left towards Monterotondo just before Sassetta you will soon find the Segherie on your left at Localita' Le Fornaci, 70 where you can see the pipes being made and take one away with you. They have two thousand different shapes and sizes to choose from. Along the same road further on you will come to the hot springs and spa of Podere La Cerreta signposted to your right which I have already recommended in glowing terms in a previous Style article.
Sassetta, being about 500 metres above sea level is a welcome refuge from the summer heat and many people drive up the winding road uphill from Castagneto Carducci to have dinner at Ristorante Il Castagno (0565 794219) which, with its fireplace in winter, specializes in game, especially the wild boar roaming the slopes below Sassetta as well as pasta made with chestnut flour. A new restaurant, the Art Café' and Wine Bar Roma with an outdoor terrace offers excellent fish menus (0565 794266).
I would like to say that Sassetta, the wonderful painter from the Trecento, originated from here but I have discovered that he was born in Cortona and nobody seems to know how he got his name. However, in the church of Sant'Andrea there are a number of treasures from the fifteenth and sixteenth centuries.